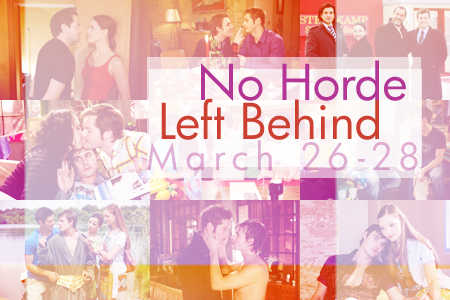 So.
I may have mentioned a certain German soap opera once or twice.
Well, if you're at all curious about it, this is the weekend to dive on in.
See, this weekend is the Gays of our Lives fan event in New York City, where Dennis Grabosch and Igor Dolgatchew from Alles Was Zaehlt, along with actors from several other soaps both German and American, will be getting together with fans.
But because not everyone who enjoys the show can afford to go to New York for the party, some fans are throwing a stay-at-home party titled No Horde Left Behind. (Fans of DeRo and AWZ refer to themselves as the Eskimo Hordes. Long story.) There will be contests, fanfic and fanvid celebrations, links to blogs and twitter feeds of attendees, and more.
Best of all, for those who've never watched the show, there's going to be three sets of Essential Playlists, one for each time period -- DeRo 1.0, The Dark Years, and DeRo 2.0. If the thought of trying to catch up with a show that's at 895 episodes and counting is a little daunting, this is an opportunity to check it out, a couple dozen episodes at a time. (Remember, these are YouTube-length episodes, so a maximum of 11 minutes each.)
The party starts
here
at noon EDT today. Hope to see you there!